Our Team
Meet the dedicated and passionate individuals who make up the heart of First Serve Tennis Center. Discover the faces behind our exceptional programs, and learn more about their unique stories and contributions to our tennis community!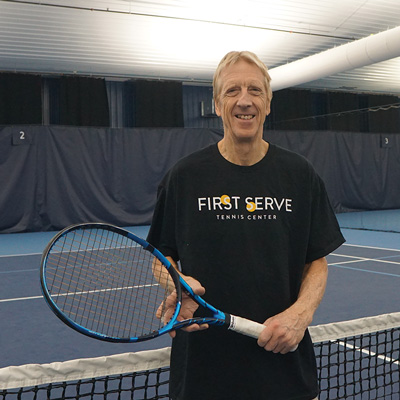 Scott Bieber
General Manager
I am now a retired CPA after 43 years in public accounting with Nichols, Rise & Company. This business background has given me useful skills and experience for my role here as general manager as well as overseeing the construction of the original First Serve facility and the 2023 addition. I was one of the founding members of the Siouxland Tennis Association, which has its roots in a birthday party for a long-time doubles group member where we decided that Siouxland needed to grow tennis here and that no one else was going to step forward to do that.
There have been so many tournaments and matches, but winning the South Dakota Adult Open A mixed doubles title in the 1990s with my wife, Lynelle, is one at the top of the list for my favorite tennis memory. Another top memory is being in the 2nd row at the Bull Ring stadium (now demolished and replaced with a larger on) at the French Open in 2017. I am a voracious reader, mostly fiction suspense thrillers. My wife and I have done various bicycling tours in the US and Europe and I still enjoy riding my bike. We love to travel, especially to historical sites and museums. Of course, I love watching professional tennis and other sports on TV. As a Nebraska resident, it goes almost without saying that I'm a diehard Husker fan.
Fun Fact: I got my first tennis racquet for my birthday at age 11. It was a wooden Bancroft model, complete with press to keep it from warping.
Isabelle Wostoupal
Tennis Director | USPTA Professional
Hi, I'm Isabelle! My tennis journey began at the age of 14, and it was love at first rally. After a brief stint playing college tennis for North Central College, I returned to my roots and earned a degree in Graphic Design and Marketing from the University of Nebraska at Omaha. During my college years, my passion for tennis led me to volunteer coaching at Millard South High School and instructing at Champions Run Country Club and the Maple Athletic Complex. After graduating, I decided to embark on a professional coaching career in tennis. I had the honor of serving as the Millard North High School Head Girls and Boys Coach for two rewarding years before making the move to Sioux City.
My passion lies in not just playing tennis, but in using my creativity to help players reach their full potential. The true inspiration for my work comes from the incredible journey I share with my students. Each day on the court brings new challenges and victories, and I'm grateful to contribute to the growth of our tennis community. When I'm not on the court, you can find me expressing my creativity through painting, ceramics, and crocheting.
I'm thankful to have been part of the First Serve team since 2022, and stepping into the role of Tennis Director in 2023 as been a true honor. I look forward to sharing my love for tennis and create lasting memories with you all!
Fun Fact: I am a proud mom to three adorable cats, Blue, Bonx, and Brutus.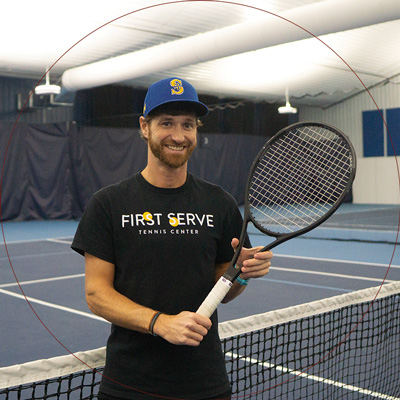 Taylor Jenness
League Coordinator | Head Tennis Professional
I'm Coach Taylor, one of the biggest tennis fanatics you'll ever meet! Although I found my passion for tennis late in life, I make up for it with extreme dedication to self-improvement and the game of tennis. Growing up, I played baseball, basketball, and golf. I feel as though tennis was not popular around this area, and I hope to change that! Some of my favorite tennis memories are playing with a group of friends under the lights of Lief Erikson Park courts. My hobbies outside of tennis are playing baseball, hiking, computers, watching sumo.
Fun Fact: I have a grey tuxedo cat named Lagatha.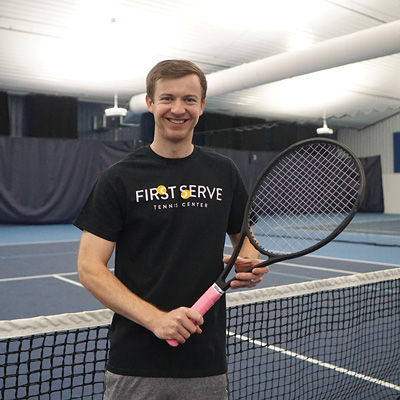 Danny Graves
Developmental Coach | Pro Shop Manager | Travel Team Head Coach | USPTA Elite Professional
On October 19th of 2019, I moved back home to join forces with the Siouxland Tennis Association as First Serve's Director of Tennis. Leading up to this calling, I attended Morningside University in Sioux City, Iowa where I was named to the All-Great Plains Athletic Conference Men's Tennis Team 6 times. After graduating, I became a high school science teacher and tennis coach in Omaha, Nebraska. While teaching in the classroom, my thoughts often drifted to the tennis court. This made me realize where his true passion lies. I jumped out of education and became the Head Tennis Professional at Miracle Hill Tennis Center in Omaha where I received his certification as an Elite Tennis Professional through the United States Professional Tennis Association.
Soon enough, though, I received a call that led me back home where I could grow the sport I love here, at First Serve. In June of 2023, I passed the baton o to our wonderful Coach Isabelle so I could spend more time visiting my wife in Salt Lake City, Utah. When I am not in Utah, I am dedicated to developing our rising tennis stars and providing all your needs in the pro shop!
Although most of my time is spent on the tennis court, I really enjoy pickle ball, golfing, and disc golfing! One of my favorite tennis memories was on November 4th in 2015, when I proposed to my now wife during a mixed doubles match with two dear friends of ours. I cut a tennis ball in half, turned it into a ring box, and then got on one knee when she missed her first serve!
Fun Fact: I listen to Christmas music throughout all parts of the year!!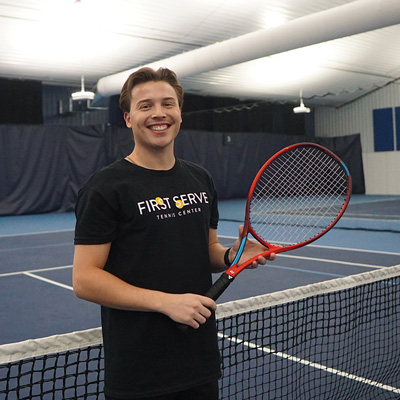 Tommy Lentz
Head Strength and Conditioning Coach | Tennis Instructor | USPTA Instructor
Hello, I'm Coach Tommy Lentz, dedicated Strength and Conditioning Coach and Tennis Instructor here at First Serve Tennis Center. I was born and raised in the West Metro of Minnesota. I graduated from Creighton University with a B.S. in Exercise Science and a minor in Behavioral and Cognitive Neuropsychology. I bring a serious commitment to health and wellness in both fitness and tennis training. As a certified NSCA Strength and Conditioning Specialist (CSCS) and a USPTA Certified Instructor, I merge technical expertise with a passion for the game. My focus is on precision and technique, crafting programs that optimize physical performance and elevate tennis skills for all age and experience levels. With extensive experience in youth sports performance, I have had the privilege of training thousands of athletes across different sports. It has been incredibly rewarding to see many of them reach the collegiate level. Every training session reflects my serious dedication to the pursuit of excellence, and love of the game.
Whether engaging in casual rallies or diving into intense competitions, every moment on the court is a cherished experience. My favorite matches always involve competitive games between friends and family, pushing each other to our limits. The physicality, mental toughness, and the sheer creativity required in tennis captivate me every time I step onto the court. These aspects make tennis my favorite activity, and it's this dynamic blend of challenge and camaraderie that fuels my passion as a coach as well.
Beyond tennis, my passion is music. I have played the piano and drums since childhood, delving into various genres with a focus on jazz. I also write and produce my own music. College football is another sport I enjoy outside of tennis, and in my downtime, you will often find me engaged in card games.
Fun Fact: I live with three cats: Blue, Bonx, and Brutus.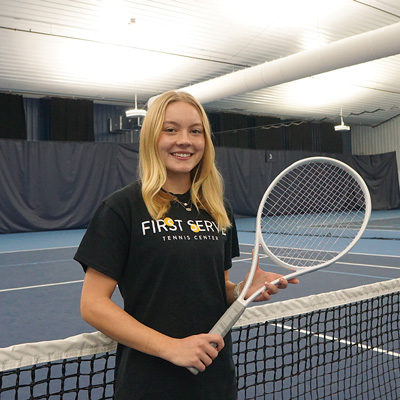 Sophia Guntren
Tennis Instructor
I'm Sophia and I'm a sophomore at Morningside University where I am also on the tennis team. My major is elementary education with a reading and coaching endorsement. In my future, I hope to teach at a school nearby and still be able to coach at First Serve. At First Serve, I mainly instruct tiny tot, red ball, and orange ball. I love to see the kids grow a passion for tennis just like I have. I didn't start playing tennis until I was a sophomore in high school but my passion for this sport grew very fast. It's so awesome to see all these children start young and progress!
My favorite tennis memories are going to the Okoboji tennis tournaments. Some of my hobbies and interests are shopping, doing puzzles, listening to music on my record player, swimming in the summer, and spending time with my friends and family.
Fun Fact: I have two younger sisters who also play tennis.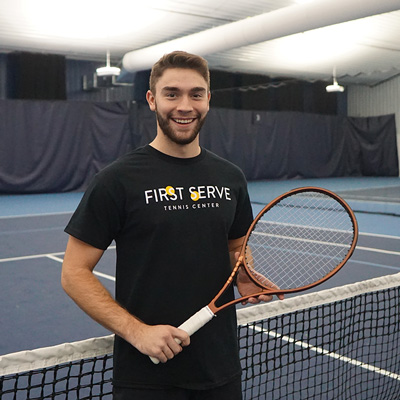 Chase Carter
Tennis Instructor
I am from Norfolk, Nebraska, where I discovered my passion for tennis during my sophomore year of high school. With a supportive family including my two parents and younger sister, I transitioned from basketball, football, and track (being the sports I had played my entire life) to fully embrace the world of tennis. I joined First Serve Tennis Center 1 1/2 years ago and have been dedicated to imparting my knowledge and love for the sport to eager learners.
One of my most cherished tennis memories was during the 2022 Blizzard Open hosted by First Serve. I had the opportunity to partner with a close friend whom I used to compete against in high school, creating a memorable and enjoyable experience on the court.
Beyond the tennis court, I enjoy a diverse range of interests. I'm an avid reader, always seeking to expand my knowledge. I love to influence others by creating digital content for individuals to watch and enjoy. I love resistance training as well as helping others meet their physical and nutritional goals. I also love to stargaze, go on late night walks, and continue to educate myself more on business and real estate!
Fun Fact: I love breakfast food, and I could eat it for every meal for the rest of my life!